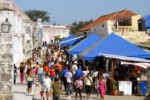 The day of love and friendship marks again the meeting point between literature and audience on the island, as part of the 22th International Book Fair, Cuba 2013.
This literary event, dedicated to Angola and the 160th anniversary of the birth of Cuban national hero Jose Marti (1853-1895), will host today some 200 intellectuals from 32 countries, including Mario Delgado Aparain (Uruguay), Carlos Lucarevi (Italy) Vicente Battista (Argentina) and Paco Ignacio Tabio II (Spain-Mexico).
Also attending will be more than 140 exhibitors from 31 nations, who will show about 1,000 new titles, with more than 4,000,000 texts, in the traditional venue of the Morro-Cabaña cultural complex, across the Bay of Havana.
This time, audience will have the opportunity to purchase additional copies of the scientific and technical literature, and may reconnect with Uruguayan-Cuban novelist Daniel Chavarria (National Literature Prizewinner), one of the writers to whom the biggest event of the national culture is dedicated.
Considered one of the most anticipated cultural events, bringing together thousands of people, the Fair will also pay tribute to historian Pedro Pablo Rodriguez, National Social Science Prizewinner. Among the most represented countries are Mexico, Argentina, Chile, Spain, Venezuela, Italy, Ecuador, the United States, Russia and Angola, the latter with a wide and varied artistic delegation, including musical bands, dance groups, lyricists, artists, and craftsmen.
More than 50 books will be dedicated to Angola, 18 of them by authors from that African nation, with which the Cuban Book Institute will sign a cooperation agreement, in order to exchange information and broaden the range of looks to that culture, that entity's president Zuleika Romay said.