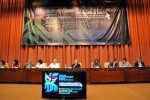 INFORMATICA 2013 opened this Monday in Havana,  with the attendance of experts from some 30 countries. The event opened at 11 am on Pabexpo fairgrounds, and at five o'clock, in the Havana's Conventions Center, the opening ceremony will take place for this event, whose slogan is "15 editions thinking on future, " Jorge Luis Perdomo, Cuban Deputy Minister of Communications and chairman of the organizing committee, said.
The first master lectures will be given by engineers Fernando Maristany Ruiz, from the Polytechnic University of Madrid, on technological waves, and Pablo Bello Arellano, general secretary of the Hispanic-American Association of Research Centers and Telecommunication Enterprises, about the digital gap.
More than a thousand works turned-scientific and technological advances will be shown at the convention, which includes the 1st Congress for the Integration of Science and Information Technology (Santiago de Cuba), the 6th Quality International Workshop on Information Technologies and the 4th Informatics and Community Symposium.
Other important appointments, there shall be 14, will be the International Congresses of Computing in Education; Technologies, Multimedia Contents and Virtual Reality, and Geomatics and the 1 st International Forum of Digital Television and the 2nd International Conference on Informatics and Computer Sciences.
The 11th Iberoamerican Seminar on Security in Information Technologies will be attended by experts like Dmitry Bestuzhev, director of research and analysis for Kaspersky Lab in Latin America, and Samuel Linares, director at Industrial Cyber security Center (ICC) and European Commission Independent Evaluator.