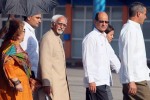 India's Vice President Mohammad Hamid Ansari began a visit to Cuba yesterday, in a context of friendly and historical bilateral relations.
The agenda of the visitor and his accompanying delegation includes a tribute to Cuban national hero Jose Marti, and their participation in the opening ceremony of the Indian Cultural Festival, on November 4.
This cultural event, the first large-scale one carried out in a Latin America country, aims to show the audience the colorful and splendor of many artistic expression, such as visual arts, film, dance, and cuisine.
During his stay here, the Indian vice president will sign a visa waiver agreement, a memorandum of understanding for broadcasting cooperation, and a donation to the National Institute of Sports, Physical Education, and Recreation will be handed over, according to a statement released here.
Cuba and India established diplomatic relations on January 12, 1960, and they have been remained unabated since then, with positive level of cooperation in international organizations.
The Asian nation, a member of the Non-Aligned Movement, has condemned the U.S. blockade on Cuba for more than 50 years.