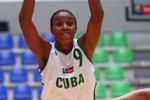 The prize to the best woman athlete of a collective sport went to Sancti Spiritus Yamara Amargo
Judo hoarded the individual prizes to the Best Athletes of the Year in Cuba through Idalis Ortiz and Asley Gonzalez, the National Institute of Sports (Inder) announced.
Ortiz obtained most of the preferences by conquering in 2913 the crown of the more than 78 kilograms at the Rio de Janeiro World Championship and in the free category at the University Games in Kazan, Russia, among other awards.
On his part, Gonzalez with his three most outstanding successes won the universal sceptre of the 90 kilos in the world games, the Pan American title in Costa Rica and the Grand Prix of Miami, the United States.
The distinction to the best team obtained by the women's selection of basketball, monarch in the Pre-World of the Americas Championship in Xalapa, Mexico and that of collective sport awarded to baseball, fifth place in the third World Classic and first in the Dutch tournament of Rotterdam and the Challenger in Canada.
The best individual sport award went to Boxing, winner of 71 medals in international events. On the other hand the prize to the best woman athlete of a collective sport went to Yamara Amargo, elected the most valuable player of the Pre-World Championship in Mexico and the men's prize was awarded to pitcher Freddy Asiel Alvarez in baseball.
Rookie of the year award went to boxer Yoandry Toirac, Panamerican champion in Chile and winner in 27 of 29 combats in 2013.
Among the best 10 athletes in 2013, were elected boxer Julio Cesar La Cruz, vault jumper Yarisley Silva, taekwondo fighter Gienhis Hernandez, boxer Lazaro Jorge Alvarez and triple jumper Pedro Pablo Pichardo.
The list is completed by taekwondo fighter Rafael Alba Castillo, chess player Leinier Dominguez, baseball player Alfredo Despaigne. The National Institute of Sports gave a special mention to 12 medal winners in world championships who did not classify among the 10 best and badminton player Osleini Guerrero.
The best paralympic athlete was Suslaidy Girat, gold in 100 meters and triple jump of the Deaf Olympics in Sofia 2013 with universal record in 100 meters.
Finally, among youth athletes the prize went to Judo fighter Gusmari Garcia for the best feminine athlete and boxer Joahnys Oscar Argilagos among the men.