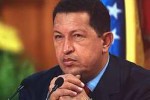 Venezuelan President Hugo Chavez has shown a favorable general clinical evolution over the past few days, as the respiratory infection is under control, the minister for Communication and Information, Ernesto Villegas, said on Sunday.
Speaking on national radio and television, Villegas pointed out that he was publicizing the communiqué as instructed by Executive President Nicolas Maduro.
Prensa Latina transmits as follows the whole text of the document:
COMMUNIQUÉ
Despite his delicate health after undergoing complex surgery last December 11, the general clinical evolution has been favorable over the past few days.
The president is strictly complying with the medical treatment. The respiratory infection is under control, although the Commander President still needs specific measures to overcome the respiratory insufficiency.
The President is conscious, in communication with his family, with his political team and with the medical team assisting him, following the information of interest.
On the eve of the Divine Shepherd procession, the Bolivarian Government of Venezuela invites all Venezuelan families to join in prayer for the Patron Saint of Barquisimeto to bring peace and happiness to our homeland.
Long Live Chavez!
Caracas, January 13, 2013