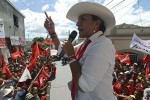 The more than 5.3 millions of Hondurans with electoral rights today live a day of reflection that allows them to incline for one of the eight government possibilities, which promise better conditions of living if they are chosen.In a campaign not free of the endemic violence in this nation, with a crime rate of 86 homicides per each 100,000 inhabitants, voters are called to Sunday elections, which will define the country´s president, who will assume his post on January 27, 2014.
The second elections since the military coup in 2009 has for the first time eight parties involved in the elections, one less than two days ago when the Broad Front of Political and Electoral Resistance (FAPER) and the Democratic Unification Party broke their alliance.
That number of political forces broke the traditional two-party system existing between the National Government Party (PN) and the Liberal Party in this Central American country, with 8.5 millions of inhabitants.
The latest polls officially released last October have a virtual tie between the PN candidate to the presidency Juan Orlando Hernandez, and Liberal Party candidate Xiomara Castro.
The other presidential candidates include Mauricio Villeda, from PL, and Salvador Nasralla, from Anti Corruption Party, apart from Orle Solis, from Christian Democracy, and Jorge Aguilar, from Innovation and democratic Social Unity Party.
The list of candidates is completed by retired general Romeo Vasquez, from the Republican Patriotic Alliance, and human rights activist Andres Pavon, from the Broad Front of Political and Electoral Resistance.