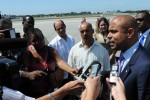 Haitian Prime Minister Laurent Lamothe arrived in Cuba this Wednesday to comply an official visit aiming at strengthening bilateral relations.
Lamothe was received at Jose Marti International Airport by Vice Foreign Minister Rogelio Sierra.
The leader's agenda includes meeting Cuban Vice President Miguel Diaz-Canel and other authorities, as well as paying tribute to Cuban Hero Jose Marti at the Revolution Square.
Cuba and Haiti established diplomatic relations in February 1904, links that are currently visible given the existing health and education collaboration.
Since 1998, "when the Cuban medical cooperation began, nearly 11,000 collaborators have rendered their services, while nearly 700 Cubans remain in Haiti".
Regarding the education sector, nearly 1,236 Haitians have graduated in Cuba and 330 are currently studying.