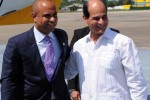 Haiti's Prime Minister Laurent Salvador Lamothe will hold talks in Havana this Thursday with Cuban First Vice President Miguel Diaz-Canel, as part of a visit aimed at strengthening ties between the two nations.
Lamothe, who arrived in this capital yesterday, will also pay tribute to Cuban national hero Jose Marti at the Havana's Revolution Square, and his departure is scheduled for today's afternoon.
After being received by Cuba's Deputy Foreign Minister Rogelio Sierra, the prime minister told reporters that his visit aims to further strengthen the good relations between the two countries.
"I'm happy to be here to have meetings with Cuban authorities (or), and thank the government for the support, solidarity and collaboration," the visitor said at the Jose Marti International Airport.
The also Minister of Planning and External Cooperation of Haiti said he is interested in the situation of young people of his country who study here.
Cuba and Haiti established diplomatic relations in February 1904, ties that at present are laid out in health and education collaboration.
Since the beginning of the Cuban mission to provide health services in 1998, more than 11,327 physicians have worked in Haiti.