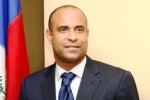 Haitian Prime Minister, Laurent Salvador Lamothe, begins an official visit to Cuba, to strengthen relations between the two countries.
Lamothe, who is also the Minister of Planning and External Cooperation, will meet in this capital with Cuban First Vice President Miguel Diaz-Canel.
The visitor's agenda also includes paying tribute to Cuban hero Jose Marti at the Havana's Revolution Square.
Cuba develops in Haiti major cooperation projects, mainly in health and education.
Since the beginning of the Cuban medical cooperation with Haiti in 1998, about 11,327 Cuban collaborators have offered their services there, and now other 686 remain stationed in the Caribbean nation.
After the earthquake hitting the Haitian territory in 2010, more than 400 Cuban physicians immediately went to help that country.
Cuba, and the countries of the Bolivarian Alliance for the Peoples of Our America and the Peoples' Trade Agreement, made contributions to the reconstruction of the health system to make it accessible to the population, and cover all care levels.
In education, cooperation has allowed the graduation of 1,236 Haitian students in Cuba since 1961. At present, other 322 are studying here.
Cuba and Haiti are part of the extended Troika of the Community of Latin American and Caribbean States (CELAC), the former as pro tempore president of that group, and the latter as president of the Caribbean Community (CARICOM).
Both states established diplomatic relations on February 3, 1904, which were broken off on September 28, 1959, and subsequently resumed on February 6, 1996.
Haiti has maintained a historical stance condemning the U.S. blockade on Cuba.