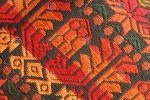 The exhibit Maya Textiles from Guatemala will bring to Havana's Casa del Alba Cultural the rich textile traditions of the Maya, which still remains alive in the continent.
This exhibition consists of 20 different costumes from Guatemalan regions such as K Iche, Kaqchikel, Mam, Ixil, Poqomchi and Qeqchi, and will open to the public from September 10 to 28.
Meanwhile, Cuban photographer Julio Larramendi will expose 20 photos that show the life and the creation of the contemporary Maya.
At the inauguration, Guatemalan linguist Ana Lopez, belonging to the Mam Maya community, will lecture on techniques used in the manufacture of fabrics and the symbolism of their colors and shapes.
She will also do a display with her loom and other instruments that are used to make the costumes.
Meanwhile, Mayan religious authorities as Ajq ijab, Tat Pedro Yak, Nan Faviana Cochoy and Nan Rosalina Tuyuc will speak the worldview of this Guatemalan community.
The exhibition's costumes are representative of the clothing worn by 70 percent of the population in Guatemala, which involve various ethnic groups, each with its own identity, culture, worldview and philosophy of life.