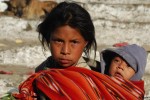 Data from the government's Integrated Accounting System show that with a month left to end the year, 60.4 percent of the budget for the anti-hunger project known as "Pacto Hambre Cero" (Hunger Free Pact) has been implemented.
Luis Enrique Monterroso, head of the Food Security and Nutrition Secretariat (SESAN), said that his department expects to implement 85 percent of the Pacto Hambre Cero budget by the end of year.
Monterroso said that 93 children nationwide died of malnutrition from January to November in 2013, and that 15,344 children suffering from malnutrition were provided with assistance.
The official made his statements during the 7th Meeting of the 2025 Working Group for a Hunger Free Latin America and Caribbean Initiative, held in Guatemala with the participation of 22 countries from the region.