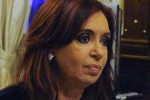 The call made through social networks for tomorrow's rally at Plaza de Mayo to show support for the health recovery of the President of Argentina, Cristina Fernandez, is gaining followers.
Under the motto "Loyalty Day, Everybody With Cristina," the campaign is quickly expanding on Twitter and Facebook, where the messages are multiplying, the Telam news agency is highlighting today.
The call began to take shape at the social networks after the president was admitted to the Favaloro Foundation, where she underwent surgery to remove a subdural clot.
"Loyalty Day, Everybody With Cristina", was the message that began running through these networks when the head of state entered the hospital," said Telam.
These were followed by other posts and slogans like "Together with you, Cristina, with everyone" and "Everybody to the Plaza for Cristina and Argentina."