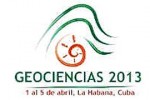 The 5th Cuban Earth Science Convention, Geociencia 2013 (Geoscience 2013), has opened, focusing on the contribution of these natural science disciplines to Cuban economic and social development.
Key subjects for the country like the exploration and exploitation of water, the search for ores such as nickel, cobalt, copper, gold, and zeolite as well as production of raw materials are all on the agenda at this event that will be in session until April 5th.
Other subjects included in the event are mining exploitation methods, recovery of mined areas, oil and gas prospecting and problems with Cuba's geological structure, said Manuel Iturralde Vinent, president of the event's organizing committee.
Geociencias 2013 (Geosciencies 2013) includes the 10th Congress of Geology, Geologia 2013 (Geology 2013); the 7th Congress of Geophysics, Geofisica 2013 (Geophysics 2013); the 5th Congress of Mining, Mineria 2013 (Mining 2013); the 4th Congress of Oil and Gas and the 11th Congress of Geoinformatica (Geocomputing), Geoinfo 2013, said the Cuban geologist and paleontologist.
One of the special lectures planned for the convention is "Unveiling pre-Columbian Caribbean jade routes: A case study in forensic geology with geological and anthropological implications," by Antonio Garcia-Casco, from the Department of Mineralogy and Petrology at the University of Granada, Spain.
An exhibition of products, services and techniques relative to earth sciences is taking place under the slogan "Geosciences at the service of society and development".
Several Cuban institutions, like the University of Computer Sciences (UCI), the Institute of Geology and Paleontology and the Institute of Geophysics have exhibits at the fair, said Iturralde.
Numerous foreign participants are also attending the convention to discuss technologies applied to geophysical and geological exploration, he also said.
During the event, there will be a book launch for the second edition of "Compendium of Cuban and Caribbean geology" and "Stratigraphy of the oil and gas deposits."