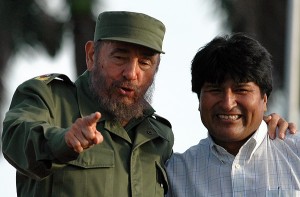 The leader of the Cuban Revolution, Fidel Castro, sent a letter to the president of Bolivia, Evo Morales, to mark the Day of the Sea in which he expressed his support for the maritime claim by that South American country.
In the letter sent last Saturday, Fidel Castro reiterated his support for the Bolivian cause on the  demand for access to the sea, its products and seafood, which were forcibly snatched when it was deprived of 400 km of coastline and 120 000 square kilometers of its territory.
The Cuban leader said that there is still much to be done, "a lot of quinoa to plant, a lot of food to produce, and many jobs to be created and a lot of international meetings for proclaiming the right of Bolivia."
Fidel Castro added that Simon Bolivar would not have agreed never to deprive the Quechua, Aymara and other inhabitants of Bolivia, of such rights assigned by the Liberator of America.
Hugo Chavez, his most brilliant follower, who deeply loved your country, would never have so ignominiously resignation to fate, concluded Fidel Castro.