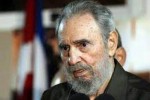 Cuban Revolution leader Fidel Castro sent a letter  in which he recalled passages of the attacks on the Moncada and he pays homage to Bolivarian leader Hugo Chavez.
In his letter, published July 28 by Cuban television, Fidel Castro said he would not be able to attend the national ceremony, held in Santiago de Cuba to mark the historic date, because he had to abide by his doctors' suggestions. However he said he could recall moments and transmit ideas.
Fidel said that the July 26, 1953 action undoubtedly was a courageous demonstration of the people's capacity to undertake any task from the very beginning. He said the 160 men, who were selected to carry out the action were picked out of 1200 young combatants from Havana and western Pinar del Rio province.
After recalling specific moments of the attack on the Moncada garrison, Fidel Castro said that some recently tried to slander the Cuban Revolution by alleging that the Cuban president had deceived the United Nations and other heads of state with a double-standard behavior.
Fidel says he is not hesitant in assuring that for years the Cuban government refused to sign accords on the prohibition of nuclear weapons because they did not agree with granting such prerogative to any  state; however, he said Cuba would never try to build a nuclear weapon.
The Cuban leader stressed Cuba's position against all nuclear weapons. He noted that no nation, either big or small, should have such extermination instrument, which could wipe out human existence from the planet.
He added that at present, it is not only nuclear weapons but also climate change constitutes the most imminent danger that could make human existence impossible on the Earth in less than a century from now.
Fidel concluded his letter by paying tribute to Hugo Chavez, a Latin American and World leader that made much for Cuba and other nations in the Caribbean area and the world. "He would be here today, among us, hadn't he fallen in his brave fight for life; like us, he did not fight to live; he lived to fight".