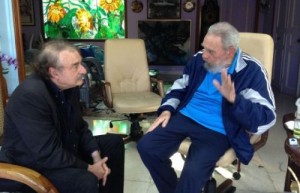 The leader of the Cuban Revolution, Fidel Castro, met in his home in this capital writer, journalist, and intellectual Ignacio Ramonet, the latter posted in his social network account.
The meeting took place on Dec. 13, when the 19th anniversary of the first meeting between Fidel Castro and the late Venezuelan President Hugo Chavez was marked.
The more than two-hour meeting dealt with the most recent book by Ramonet about the Venezuelan leader entitled "Hugo Chavez. Mi primera vida" (Hugo Chavez. My First Life).
Fidel Castro and Ramonet also talked of the recent municipal elections held in Venezuela, and the current political and ecological situation of the planet.