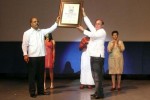 The historic leader of the Cuban Revolution Fidel Castro and President Raul Castro were awarded the Coat of Arms of Santiago de Cuba Province, top distinction granted by the People's Power Assembly of that Cuban territory.
According to Granma newspaper, during a solemn session of the Assembly at the local Heredia Theater, the first secretary of the Communist Party in the province, Lazaro Exposito received the distinction, established in 1996, from Reinaldo Garcia, who heads the government body in the eastern territory.
The granting of the top provincial distinction entails the feeling of all Santiago citizens towards who started the student struggle and after the actions at the Moncada garrison, the landing of the Granma Yacht and the guerrilla fight on the Sierra Maestra mountains have continued to commit themselves to the Cuban Revolution for long years.
Previously, the Assembly had granted the distinction to personalities and entities in Santiago and in other parts of the country, for their outstanding contribution to recovery efforts after the passage of hurricane Sandy.
Those entities and territories included 14 Cuban provinces, military and Interior Ministry units, construction companies, farmers and members of grassroots organizations, as well as artists and the children theater company La Colmenita and its director Carlos Alberto Cremata.
Santiago met its good production schedules for the first half of 2013 at 104 percent despite the huge damage inflicted by the storm, as it was announced during an assembly session on Sunday, which was attended by government vice-president Ulises Rosales del Toro. The economic achievement was particularly reached in the sectors of agriculture, the food and the construction industries.
Addressing provincial delegates, Lazaro Exposito said that reaching the historic July 26 date with such achievements has been a commitment met to keep ahead towards the 55 anniversary of the triumph of the Cuban Revolution to be marked on January 2014.