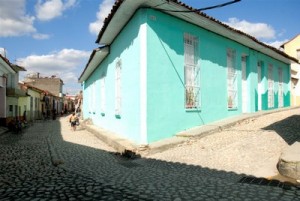 The bells of the churches in this central Cuban city will tolled at midnight this June 3rd to give a beginning to the festivities for the 499th anniversary of the fourth Cuban village, founded in 1514.
The village, initially called Espiritu Santo, shows to a renewed face after walking towards the half millennium of its creation next year. Roberto Villoch, president of the Provincial Monument Commission, told Prensa Latina that the colonial works in the restoration of strolls, parks, palaces and spotted streets have been strong.
The set of the historical center is comprised by more than 3,000 buildings, precious iron and wood doors, door knockers, lampposts, and eaves of the 18th, 19th and 20th Centuries.
Villoch explained that the colonial architecture has heights next to the squares, where churches, the offices of the government, schools, convents and the houses of the Creole nobility were built.
In the colonial framework, he said there are abundant one-story houses, around the parks and plazas, while into central Real Street, there are the houses of several levels.
The buildings of the 18th Century, churches and other social and cultural constructions of the colony and the republic preserve their shapes while the decorations in interiors and facades, neoclassic characteristics, of the eclecticism, have remained.
For Villoch settlers of Sancti Spiritus have one of the more typical colonial axes, reuniting the Great Church (1680), the Principal Theatre (inaugurated on the 15th of July, 1839), the bridge on the Yayabo River (1825), unique with five arcs made of bricks and third in Cuba, and the house of the 100 Doors or Valle-Iznaga Palace (18th Century).