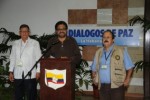 The Revolutionary Armed Forces of Colombia-People's Army (FARC-EP) is describing the scope of the peace talks with the government of Colombia as modest.
In a statement released here, Ivan Marquez, member of the guerrilla delegation, said that regarding the first item of the peace talks agenda – agricultural issues – an agreement has been reached to formalize land ownership.
In this regard, he stressed, an agreement was forged with the government to deliver property titles to all farmers who own land.
However, he stressed that the recent national agrarian strike that shook Colombia confirms the social discontent on this point and justifies the approach that the guerrillas put on the table for discussion in Havana.
Both sides exchanged views during 14 cycles on at least 200 proposals to solve rural problems and provide for political and civic participation.
On this last point, the report presented highlights the proposals submitted by the FARC-EP to Colombia's Executive branch for discussion, including a national constituent assembly.
The text also says that apart from this particular point, a possible resolution to the illegal crops problem was also discussed.
Referring to the issue of victims of the long conflict, the FARC-EP proposed forming a committee to review and clarify the truth behind the history of social and armed conflict.
This group ought to include both domestic and foreign experts.