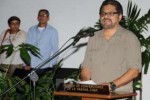 The Revolutionary Armed Forces of Colombia-People"s Army (FARC-EP) urged today that, in case of the signing of a peace treaty, the institutional changes necessary so that organization can become a legal political movement will be provided.
At the Conference Center in Havana, permanent venue of the peace talks with the Colombian government, the guerrilla delegation chief, Ivan Marquez, reported initiatives to ensure the implementation of the policy to the insurgency and its fighters.
The passing of the FARC-EP to the stage of political struggle would be preceded of permanent institutional changes to ensure the political rights of the members of the guerrilla organizations in rebellion against the State, including political prisoners and prisoners of war, he said.
Just before beginning another day of talks, Marquez stated that the movements that emerge as a consequence of the Peace Agreement, its leaders and militants, will have special security guarantees.
He also stated that they should have a state funding, and have direct participation in the National Electoral Council.
Such political groups would also have special conditions of access to the property and the participation in state media, including programming.
The head of the rebel delegation stated that, in case of the signature of a peace treaty, the changes required for direct participation in the legislative branch, department assemblies and municipal councils should be fostered.
He also thanked his work in front of Pope Frances asking for support this process.