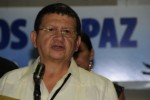 The Colombian insurgency delegation holding peace talks with the government of its country presented in Havana some proposals on the anti-drug policy, related to the fourth item of the agenda.
The guerrillas of the Colombia Revolutionary Armed Forces-People's Army (FARC-EP) stated the need of establishing a demilitarized and comprehensive drug policy, aimed at dismantling criminal groups and the pursuit of the capitals involved in the economic process of drug trafficking.
They also drew attention to the "decriminalization of the rural poor," the treatment of the psychoactive drugs consumption as a public health problem, and the creation of conditions to overcome illegal uses of coca, marijuana, and poppy.
The replacement of those crops must be accompanied by alternative development programs and the recognition of their beneficial uses, they said.
Finally, they stressed the responsibility of the states and regional commitments in implementing a global drug policy.
These proposals were issued with the objective of reaching a just and appropriate definitive solution, FARC-EP negotiation team member Pablo Catatumbo stated after reading the statement from the group.
The peace talks in Havana reached in late May a first partial agreement on agricultural issue and another early November referred to the future political participation of the armed group and other organizations after the end of conflict.
The debate on illegal drugs is the third item to analyze after one year of the establishment of the roundtable discussions in Havana.