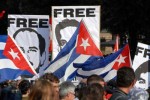 More than one hundred members of the Jose Marti European Solidarity Brigade will soon arrive in Cuba, to complete an intensive program to promote awareness of the reality of this country, the ICAP announced.
According to the Cuban Institute of Friendship with the Peoples (ICAP), the 43 contingent of the group, whose agenda will run from July 1 to 19, is composed of members from 13 nations, among them Italy, Spain, Sweden, France, the United Kingdom, and Belgium.
Among the activities are a meeting with relatives of the five anti-terrorist fighters of the island unjustly held in the United States, and members of the International Committee for their release.
Gerardo Hernandez, Ramon Labañino, Antonio Guerrero, Fernando Gonzalez and Rene Gonzalez were detained in 1998 and sentenced to penalties ranging up to double life plus 15 years in prison, for monitoring terrorist groups that from Miami organized, financed and executed actions against Cuba.
Rene Gonzalez, who is in Cuba, recently started the paperwork to renounce his U.S. citizenship, a requirement set by U.S. authorities to modify his conditions of supervised release that should fulfilled after his release from prison in October 2011.
The Brigade will also visit centers of historical and cultural interest in the capital and several provinces, and participate in lectures on updating the Cuban economic model, the impact of the U.S. blockade to the island, among other topics.
As part of the program's objectives is to foster a deeper understanding of the reality of this Caribbean country, "distorted by large media," and serve as a bridge of friendship to those interested in having a more objective view of Cuba, the ICAP stated.