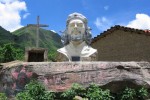 Tributes to the Argentine-Cuban guerrilla Ernesto Che Guevara begin today in Santa Cruz, and will run until Wednesday, Oct. 9, on the occasion of the 46th anniversary of his death in La Higuera.
A film series began yesterday in memory of Guevara, who led a guerrilla group in the eastern region of the country from 1966 to 1967, seeking an end to the oligarchic governments that ruled Bolivia.
The film "El coraje del pueblo" (The Courage of the People), by filmmaker laureate George Sanjines, opened the series, which also includes another film by the same director, "Insurgentes" (Insurgents), while "Nicaragua, patria libre o morir" (Nicaragua, Homeland Free or Die), will be shown tomorrow.
The film "Fidel, la historia no contada" (Fidel, The Untold Story) will be also screened tomorrow, and "Che, un hombre Nuevo" (Che, A New Man) will be shown on Oct. 9, marking 46 years since the murder of Guevara.
Tomorrow's activities on occasion of Che Guevara's death will include a tour of places linked to the guerrilla team he led in the area of Vallegrande, including the sites where several members of his column were buried.
Latin American ambassadors, and Che's younger brother, Juan Martin Guevara de la Serna, who is on his second visit to the country this year, will participate in the marches.
The central activity in memory of Che's death will be held in a small mausoleum built next the Vallegrande airstrip, where his remains were hidden for 30 years before being unearthed and taken to the Cuban city of Santa Clara.
Another event will be held in La Higuera on Wednesday, Oct. 9, to whose school the guerrilla fighter was taken after being imprisoned in Quebrada del Yuro, and where he was killed that day in 1967.
Che was born in the Argentinean city of Rosario on June 14, 1928. After completing his medical studies he joined the Granma Yacht expedition departing Mexico that, led by Fidel Castro, was planned to free Cuba from the Fulgencio Batista dictatorship.
Guevara arrived in Cuba as the physician of the emerging guerrilla force, but his additional merits soon became clear and he was promoted to commander and column chief. When the war ended on January 1, 1959, he was in the central city of Santa Clara, where he had led invading troops.