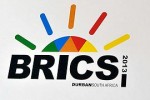 The emerging powers from the so-called BRICS group agreed today in this city to create a development bank to finance infrastructure projects.
Asked about the concept, the South African Economic Minister Pravin Gordhan confirmed to the press that the agreement has been completed.
Durban is hosting leaders from Brazil, Russia, India, China and South Africa (the members of the BRICS) at a summit under the slogan "Association for Development, Integration and Industrialization."
Experts believe that such an institution could become a counterweight to the oft-questioned financial policies of the International Monetary Fund and World Bank.
Last year the BRICS accounted for 21 percent of worldwide GDP, with trade worth 282 billion USD. Its members include 42 percent of the world's population and 45 percent of the planet's workforce.