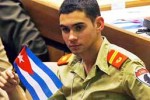 Elian Gonzalez will attend the 18th World Festival of Youth and Students, to be held in December in Ecuador, as a guest of the Cuban delegation, it was reported this Friday.Elian, now 20, was granted this recognition at the Camilo Cienfuegos University in Matanzas, where he is studying industrial engineering.
The selection recognizes Elian for the important example he provides for the country's students and youth, the Giron weekly website posted.
According to Elian, the festival provides a good opportunity to demand the release of the island's antiterrorist fighters, unjustly condemned in U.S. prisons.
Gerardo Hernandez, Ramon Labañino, Antonio Guerrero, and Fernando Gonzalez remain imprisoned in the U.S., for monitoring actions being plotted by extremist groups based in Florida, USA, against the Caribbean island.
A fifth member of the group, Rene Gonzalez, returned to Cuba in April, after completing 13 years in prison and an additional punishment of supervised release in that northern country.
Elian also stated that the Ecuadorian youth meeting is a party, "but at the same time, a good opportunity to showcase Cuba, of which each of us should be proud."
At just six years of age, Elian captured the attention of the press worldwide when he was the focus of an incident between Cuba and the United States after being shipwrecked on a boat in which his mother and several others, encouraged by the Cuban Adjustment Act, sought to emigrate to the U.S.
After seven months of huge effort, including massive demonstrations in Cuba demanding his return, the child was returned to his father and his family unit in Cuba.