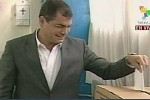 President Rafael Correa and presidential candidate of the Alianza PAIS Movement on Sunday exercised his right to vote in the presence of international observers and national and foreign media.
In our hands is our destiny, said Correa to multiple media after voting.
He called to choose the future of the country, so this should be a source of joy, and national and democratic celebration and invited the Ecuadorians to vote with infinite love for the motherland.
Correa reiterated that citizens should vote responsibly and care for the transparency of this process to ensure that it is the most inclusive and transparent in history.
He said that his wife and daughter will exercise their right to vote for the first time in Ecuador, which fills him with pride, adding that his cabinet will await the outcome of these elections in the Palacio de Carondelet.
Correa, along with his running mate, George Glass, arrived at the polling station number seven, located at San Francisco de Quito, surrounded by his followers, who showed their support with cheers and loud applause.
The candidate of the Alianza PAIS Movement reaches this Sunday as preferred among voters with more than 60 percent, so it is expected his victory in the first round.