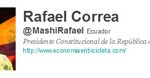 Ecuador's election campaign is in full swing on social networks, with campaign tours, government proposals and even parodies of the candidates to be found throughout the best known networks.
President Rafael Correa sends updates to his more than 684,800 followers from his Twitter account (@MashiRafael) about the places he will visit and is calling for a unified vote for candidates to the National Assembly.
Correa is also on Facebook, where more than 26,000 followers can see pictures and videos from the Alliance PAIS Movement to share and comment on them.
Youtube has become a platform for videos showing the progress of the Citizen Revolution over the past six years, as well as the new projects planned.
The soundtrack accompanying Correa during his campaign has received about 100,000 hits so far, since the beginning of the 14 day campaign period.
Another of the most popular videos is a parody in a music video made by web surfers about former banker Guillermo Lasso, presidential candidate for the Creating Opportunities (CREO) party.
Each applicant has their own space in the blogosphere with personal and professional profiles, where they also discuss their projects with network users.
Social networks have become a place for unlimited expression because there are no regulations imposed by the National Electoral Council (CNE), as there are with the traditional media.
About 950 media and advertising companies have been qualified by the CNE to participate in promoting the presidential campaign.
The CNE said that it is aiming for Ecuadorians to vote consciously and with full knowledge of the proposals of each candidate.
The electoral regulations in Article Two rule that the purpose of advertising is for politicians to disseminate their proposals, and in turn for citizens to make informed choices.
The Democracy Code states that campaign commercials must not exceed 60 seconds