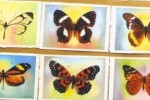 25 endemic Cuban butterflies drawn by Antonio Guerrero, one of the five anti-terrorist fighters who have been unjustly held in the United States since 1998, will go on display in the cities of San Francisco, California, and New York.
The exhibition will open simultaneously in the two cities on March 29, with Alejandro Murguia, prize-winning San Francisco poet attending the opening in California.
While in New York, the drawings will be exhibited at the Roone Arledge Auditorium in Lerner Hall, at the University of Columbia, where the participation of Cuban Ambassador to the United Nations, Rodolfo Reyes, is expected.
Also attending will be the Venezuelan representative to the U.N., Julio Escalona, one of the attorneys for the Five, Martin Garbus, and former Puerto Rican political prisoner Luis Rosa, according to the program released today.
Organized in San Francisco by the International Committee to Free the Cuban Five, as Guerrero, Gerardo Hernandez, Ramon Labañino, Fernando Gonzalez and Rene Gonzalez are universally known, the exhibition aims to raise awareness and to join forces in favor of the return of these men to their homeland.
Meanwhile, the exhibition is being sponsored in New York by the Caribbean Students Association at the University of Columbia, as well as the Casa de las Americas in Havana, the Popular Education Project for the Release of the Cuban Five, and the 26 de Julio Coalition.
One of the Five, Rene Gonzalez, completed his prison term in October 2011, but is being forced to remain in the United States for an additional three years, on probation.
Guerrero has also published several poems, such as those recently launched at the International Book Fair in Havana: "Enigmas y Otras Conversaciones" (Enigmas and other conversations) and "La verdad me nombra" (Truth Summons me).