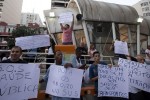 Brazilian President Dilma Rousseff on Monday noted the need to implement a broad and in-depth political reform in the country with citizens' participation.
Speaking on her Monday radio program "Coffee with the President", Rousseff ratified that her government will take measures to meet the demands from millions of demonstrators who have taken to the streets over the past two weeks to demand high-quality education, health and public transportation, less corruption and more safety.
She favored taking advantage of the youth's energy to change, in a better and faster way, many things that Brazil has failed to achieve due to political and economic limitations.
"As the president, I have the obligation to listen to the voice from the streets, to dialogue with all sectors, but everything within law and order. Brazil fought hard to become a democratic country and is also fighting hard to become the fairest country," she stressed.
Finally, she ratified her opposition to violence by a minority interested in destroying public property during the protests, so she assured that security agencies must stop, within the boundaries of law, all kinds of vandalistic acts and outrages.