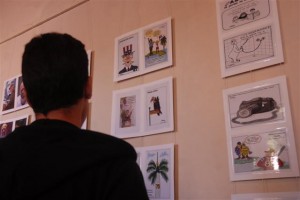 Sancti Spiritus's Casa de la Guayabera venue of exhibit by Antonio Guerrero.  An exhibition by Antonio Guerrero was opened in Sancti Spiritus this March 5th. The exhibition is entitled Los Cinco no tienen frontera (The Five don't have frontier), and also includes paintings and caricatures by Gerardo Hernández.
The exhibition was inaugurated at the Casa de la Guayabera (House of the Guayabera) in the presence of Irish Sean Joseph Clancy, Guatemalan Karla Ramírez, and Italian Rodolfo Dalpane, all members of the International Committee for the Freedom of The Five.
As it is internationally known, these five Cuban patriots were arrested on September 12th, 1998 in the United States, and accused of spying for the Cuban government, along with other actions that supposedly endangered the country's national security. Such charges could never be proved in the politicised and arbitrary trial held in 2001.
The exhibition also brings together photos and posters on the life and actions of Gerardo, Antonio, Ramón Labañino, Fernando González and René González.
[nggallery id=56]
Amidst the many support actions for the Cuban Five imprisoned in the Unites States for fighting terrorism, an exhibition by Antonio Guerrero was opened in Sancti Spiritus this March 5th.   (Photos: OAS)