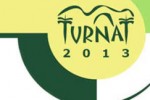 Dozens of experts from several countries participate in the discussions of the important event.
During the first three days of the one-week program, interesting issues such as the natural and cultural heritage of this country will be discussed with the relevant experts and above all, travel agents planning to promote Cuba as a tourist destination.
At the opening, Raul Naranjo, General Manager of the Ecotur travel agency, shared the business outlook with participants, while the regional delegate from the Ministry of Tourism (MINTUR), Ramon Cereijo, will speak on benefits and spaces.
Delegates will have the opportunity to sign up to see the new routes for themselves the end of the meeting, being held at the Sierra Maestra Hotel in Bayamo.
Nilson Acosta, Vice President of the National Cultural Heritage Council and Executive Secretary of the National Commission of Monument in Cuba, is also scheduled to deliver a presentation as part of the program.
With that first-hand information, participants will get a clearer idea of the prospects for Cuban nature tourism.
Thursday's agenda will include keynotes by the president of the Association of Tourism and Conservation Consultants of Costa Rica, Ana Baez, and the Consultant and Advisor to the Tourist Entities for the World Tourism Organization, Arthur Crosby.