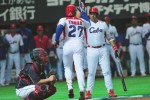 Cuba today gave an almost perfect thrust to the samurais of Japan, with a voracious offense that included ten hits and two homers, to prevail 6×3 and lead Group A in the III World Baseball Classic.Yasmany Tomas hit a solo homer to left field in the bottom of the third inning, to give Cuba a 1-0 lead against the Japanese starter Kenji Otonari, and Alfredo Despaingne gave a huge three-run homer in the eighth.
"We had an impeccable performance and are very satisfied with the three victories in Fukuoka. I think the team is approaching its better performance and will meet expectations at the next stage in Tokyo", said the Cuban manager Victor Mesa.
For his part, the leader of the opposing team, Koji Yamamoto, stressed that Cuba's batting is awesome and that this made it interesting to watch the work of the Japanese pitchers.
After being totally silenced by the Cuban offensive, rightfielder Tomas silenced more than 30,000 spectators at the Fukuoka Dome, to open the scoring.
That was the only liberty allowed by left-hander Kenji Otonari before ceding the box to the right fast pitcher Masahiro Tanaka, who allowed Cuba its second hit, by José Miguel Fernández and a double from the fourth hitter Frederich Cepeda.
But that was all, Tanaka had six strikeouts in two innings of action to stop the Cubans, and Hirokazu Sawamura replaced him in the sixth, allowing a third run through a double from Fernandez and a single by Jose Dariel Abreu.
The Cuban domain was almost absolute until the ninth inning. After one out, relief pitchers Raisel Iglesias and Darien Nuñez gave up three walks.
Then right handed fast pitcher Vladimir Garcia allowed a single by Chono (a great play by shortstop Arruebarruena prevented further fielders), a sacrifice fly by Toritoni and another hit from Ibata contributing to the Asian runs.
The four teams qualifying for the second stage in Asia will go to Tokyo, where on Friday they will play a double elimination round to fight for the two tickets to San Francisco, United States, home of the semifinals and finals of the tournament from March 17 to 19.
Cuba will play against the Netherlands, while Japan will play against China Taipei.