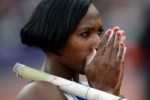 Cuban pole vaulter Yarisley Silva holds today the championship title from the "Pole Vault in the Mall" contest held in the U.S. city of Des Moines, with a four meters, 82 centimeter leap.
The score is a national record for Central America and the Caribbean, but due to its being achieved at the Jordan Creek Mall in Des Moines, Iowa, it is uncertain whether the International Athletics Federation (IAAF) will officially recognize it.
With the jump, achieved after a flawless sequence of 4.50, 4.60 and 4.70 meter jumps, Silva exceeded by one centimeter the score she achieved last March, when she set a national and regional record.
In her last attempt, the London-2012 silver medalist tried but failed to surpass the rod located at 4.90 meters, although she secured gold with a safe margin ahead of Mary Saxer and Kylie Hutson from the host country, both with 4.60.
Meanwhile, in the men's competition, the German Björn Otto won with a 5.80 meter jump, also a record at the event, to outdo the French world and Olympic champion Renaud Lavillenie, second with 5.70.
This Friday, Silva will be in action again, this time in the official competition of the Drake Relay meeting, where her fellow Daylis Caballero will also compete.
The participation of seven other vaulters is expected, including the Olympic champion in London-2012, U.S. Jennifer Sur.