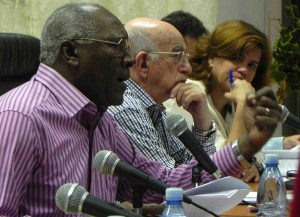 The Cuban Workers' Union (CTC), an organization with more than three million members, is making preparations for its 20th Congress, to be held in November, media reported today.
National and local newspapers highlighted the celebration last weekend of the 92nd plenary session of the CTC National Council, which included changes such as the leaving of the entity's General Secretary Salvador Valdes, who in February was elected Vice President of the Council of State.
CTC Second Secretary Carmen Rosa Lopez will lead the organization until the celebration of the Congress, in which participants will elect the top leadership of the labor movement on the island.
According to Valdes, quoted by Trabajadores weekly, the preparations for the Congress are going well, a process that he said called for "quality, and a comprehensive approach."
In that regard, Valdez stressed that all union groups will discuss the basic documents from the 20th Congress of the CTC, in which they will discuss topics such as the updating of the Cuban socio-economic model, and the growing participation of the private sector in that model.
The meeting stated that immediate challenges of the labor organization include the May Day celebrations, and the analysis in labor groups of the new Labor Code, to which the socio-economic update underway will be adapted.