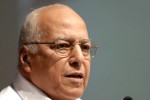 The Vice President of the Council of Ministers of Cuba starts today a working visit to Russia in the framework for the celebration of the Eleventh Session of the Inter Governmental Commission for the Economic-commercial and Scientific-technical Cooperation.
The running of the bilateral Collaboration plan and the agreements signed in Havana in November, 2012 will focus the agenda of official talks of Cabrisas and the Russian foreign minister, Segruei Lavrov, scheduled for this Wednesday at the ministry's headquarters.
This is the second meeting, so far this year, between Lavrov and a Cuban official, since the meeting held last May with his counterpart Bruno Rodriguez in which occasion was signed the Inter Ministries Consultation Plan for 2014-2016.
Lukashevich emphasized that the meetings arranged in this capital and the session of the inter-governmental commission scheduled for October 24 and 25, strengthen the interaction between the two states.
Simmilarly, Ricardo Cabrisas delivered a message of condolence of president Raul Castro for the victims of the terrorist attack occurred in Volgograd this week, killing six and injuring 37.
Cabrisas delivered the letter to the Foreign Minister Serguei Lavrov, addressed to the leader Vladimir Putin with the condolences for the recent tragedy that shook the Russian society.
In an assessment of the situation of bilateral ties the Cuban vice president expressed coincidence in the excellent relations between Russia and Cuba, as result of the reciprocal visits of the recent times, at the highest level, said the Cuban senior official.