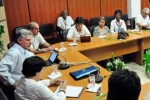 Cuban First Vice President Miguel Díaz-Canel called on spiritists to defend their nacional identity, free from foreign influences, and he expressed confidence in the commitment of those religious communities to the Revolution.
During a meeting with representatives of spiritualist congregations in Cuba, Diaz-Canel warned that the absence of identity can lead to the risk of the subtle acceptance of plans promoted by the United States, focused on the non-state economic sector to break their commitment to the Revolution and undermine national unity.
Diaz-Canel talked with members of that religious community as part of the process to achieve legal recognition of the provincial federations of that community, for uniting its associations in each province.
That transition was taking place in the context of the actions taken by the Cuban government to update and improve its economic model, to achieve a more viable socialism, Diaz-Canel said.
When referring to the process of legalizing several of the main spiritualist congregations of Cuba, Diaz-Canel said this was a step toward forging a monolithic structure and thus promoting a greater and necessary social unity.
In March, Cuba's spiritist congregations hosted the 7th World Congress of the International Spiritualist Council, attended by hundreds of delegates from 34 countries.