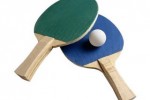 Six Cuban table tennis players were chosen to go to a training base in El Salvador, as confirmed by official sources here this Monday.
Cuban National Tennis Commissioner Amado Bodes told reporters the Cuban team, now renovated, is getting ready for the Latin American Tournament to be celebrated in El Salvador, from March 19 to 24.
The Cuban chosen athletes are: Leysi Jimenez, with the biggest international experience, Yohan Mora, a man who made good impression in the Pre-Olympic classification tournament in 2012; Sandra Mustelier, now Cuban female National Champion, Ana Ibis Garcia, Idalis Loret and Livan Martinez.
Bodes said the second objective for the coaches of the team will be to test the rookies and observe their performance in an international competition.
Cuban best athletes, Andy Pereira and Jorge Moises Campos, who are now studying and training at the International Tennis Training Center in Koping, Sweden, are getting ready for the World Team Championship to be held in Paris in May.