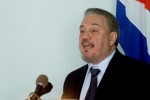 Fidel Castro Diaz-Balart, scientific adviser to the Cuban Council of State, received an honorary doctorate from Lomonosov University, in the Russian capital.
The ceremony, held in the rector's office, was led by Rector Victor Sadovnichy, who reaffirmed the opinion of the university's Scientific Council in recognizing a physicist who was educated at that university and whose work was integrated into universal knowledge "that makes us proud."
Sadovnichy and other prominent figures who spoke highlighted Castro Diaz-Balart's experience as coherent during his undergraduate and graduate years studying Nuclear Physics at Kurchatov Institute, and subsequently in Cuba, where he has made significant contributions, they said.
Mathematician Ivan Melnikov, first vice president of the State Duma (lower chamber of Parliament) and a member of the university's Scientific Council, stressed the symbolism of the fact that half a century earlier, that same university had conferred an honorary doctorate on the leader of the Cuban Revolution, Fidel Castro.
"By recalling this fact we render tribute to an eternal friendship with a people that despite a blockade imposed by the United States for more than 50 years, has been able to resist and develop education and science recognized the world over," Melnikov said.
Fidel Castro Diaz-Balart said that from 1959 to this day in Cuba, there has been permanent support from the State for the development of human capital and the creation of an infrastructure in science and technology.
He added that science and technology are essential to the construction of the future of a nation with scarce energy resources, an aging population, and a reduced birth rate.
When Fidel Castro received his honorary doctorate, he warned that the age of social revolutions would be followed by an infinite battle against the forces of nature, Fidel Castro Diaz-Balart recalled. "And science will win," he added.