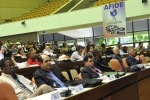 The 5th International Convention of Physical Activity and Sports (Afide-2013) will discuss a number of papers this Wednesday on high-performance sports, sports psychology, applied sport sciences, and university chess.
The issue of talent scouts will be the focus of special attention, from the perspective of a number of Third World nations.
For example, Kenyan Duncan Mwiri Munene will talk about the methodology to find future middle-distance champions in his country, one of the world powers in long distance trials.
Meanwhile, Venezuelan Juan Jose Maita will speak about the identification and selection of sports talent through a unit created for this purpose in the Venezuelan state of Anzoategui.
The impact of technology on physical activity, the evolution of chess styles, and the promotion of chess training in Venezuela will be also analyzed by other specialists.
Physical education and the relationship between environment and society will be also discussed, along with an editorial exchange regarding sports magazines.
More than 600 domestic and foreign delegates, the latter from 44 nations, are attending Afide-2013 at the Conference Center in this capital.