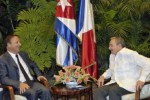 President Raul Castro met Thursday with French Senate President Jean Pierre Bel, who participated in this capital in the Third International Conference for World Equilibrium.
During the cordial meeting, both officials talked about the favorable state of bilateral relations and mutual interest in advancing the development of economic, trade and cultural ties.
They also discussed issues of regional and international situation, particularly the recent celebration in Chile of the Summit of the Community of Latin American and Caribbean States-European Union.