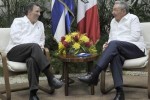 Cuban President Raul Castro met Mexican Foreign Secretary Jose Antonio Meade, on an official visit to this country.
The national television described as friendly the meeting between both parties, held at the Palace of the Revolution in Havana.
The Cuban statesman and the Mexican foreign minister talked of the good state of bilateral relations, and issues of bilateral and regional interests.
The parties particularly debated the performance of the Community of Latin American and Caribbean States (CELAC), for which Cuba holds the pro tempore presidency this year, and the Association of Caribbean States (ACS), presided over by Mexico.
Meade said the CELAC summit to be held in January 2014 will be built on good results the integrationist body has shown this year.
Cuban Foreign Minister Bruno Rodriguez, Mexico's ambassador in Havana, Juan Jose Bremer, and Vanessa Rubio, Mexican Undersecretary of Foreign Affairs for Latin America and the Caribbean, attended the meeting.
Meade ratified the northern country's historical rejection to the U.S. blockade on Cuba, and reaffirmed the ties of brotherhood between the two peoples.