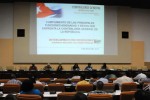 The ten standing commssions of the Cuban National Assembly of People's Power meet in this capital today and tomorrow, prior to the First Ordinary Session of the 8th Legislature.
Parliamentarians of six commissions meet at the Havana's Conference Center, and the rest at the "Victoria de Giron" Institute of Basic and Preclinical Sciences.
This period was convened for Saturday, April 6, when the current legislature, created on February 24 and composed of 612 deputies, holds sessions for the first time.
According to the Assembly's authorities, all commissions will discuss in the first item on the agenda the results of the latest internal audit performed by the General Comptroller of the Republic.
In addition, many committees will debate the Draft Bill on Maritime, River and Lake Navigation, which is expected to be discussed in this period.
Legislators will also receive information on the fulfillment of Economic Plan and the implementation of the Budget at the end of the first semester of the year, the national press reported.