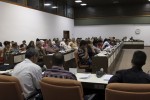 Cuban legislators continue today the works in 10 permanent commissions to prepare the agenda of the second ordinary period of sessions of the Peoples' Power National Assembly, starting tomorrow.
The commissions of Economy, Attention to Services, Agriculture and Food, Construction and Energy, International Relations, and Constitutional and Judicial Affairs, among others taking place in the 8th Legislature of the Cuban Parliament, are working since Wednesday.
The adoption of the new Labor Code, the fight against illegalities, and the state of services such as telephone and postal, has been analyzed by the islands legislators.
Also on the list are the course of the program to sell materials for the construction and maintenance of houses, and the new non-state productions, among other issues of interest for the population.
During these days, legislators reviewed the permanent battle for the return to Cuba of the four antiterrorist fighters unjustly condemned in the United States more than 15 years ago, when monitoring groups responsible for violent actions against the island. They are Gerardo Hernandez, Ramon Labañino, Antonio Guerrero, and Fernando Gonzalez, who along with Rene Gonzalez, already in Cuba after completing his long prison sentence, comprise the Five, as they are internationally known.
Today's agenda includes the presentation of an investigation by the Center of Study on Youth, regarding the situation of youth employment, which updates its socio-economic model.
The results of the course of economy, the fulfilment of the State budget, and the economic goals for next year, will be also under discussion.