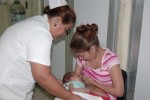 In Cuba, everyone has a family doctor, health services are absolutely free, and authorization to access them is unnecessary, says an article published in The New England Journal of Medicine.
The Cuban health system is characterized by many doctors, its high state of organization and its priority on prevention, says the study "Medical care in Cuba, a different model," by Edward W. Campion, Senior Deputy Editor and Online Editor, and Stephen Morrissey, Ph.D., chief editor of the magazine.
Although the Cuban nation has limited financial resources, the health system has solved problems that the U.S. has failed to resolve, the authors of the work stated.
"As a result of the economic, commercial and financial blockade" imposed by the United States for more than 50 years, Cuba has developed its own biopharmaceutical industry, and now it not only manufactures the most essential drugs in the pharmacopeia, but is able to export medicines.
This highly structured health system aimed at prevention has produced positive results. Vaccination rates in Cuba are among the highest in the world. Life expectancy at birth is 78 years, virtually identical to that of the United States, says the document.
Infant mortality has declined from about 80 per each 1,000 live births in the 1950s to less than five per 1,000 today, lower than that of the United States.
In addition, Cuba now has more than twice as many physicians per capita than the United States, adding that many of them work outside the country voluntarily for two or more years, the text says.
Without doubt, the Cuban health indicators are the result of improvements in nutrition and education. In Cuba, the literacy rate is 99 percent, and health education is part of the compulsory school program, the Journal highlights.