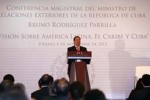 Mexico President Enrique Peña Nieto held talks with Cuban Foreign Minister Bruno Rodriguez, who paid an official visit to that sister Latin American nation.
Minister Rodriguez also met with his Mexican counterpart Jose Antonio Meade on issues related to the strengthening of bilateral relations.
During these meetings, the two governments expressed their willingness to boost bilateral links and signed a series of cooperation protocols in the juridical, economic and educational areas.
As part of his working agenda in Mexico, the Cuban foreign minister gave a key-note lecture in Mexico at the Foreign Affairs Ministry, which focused on the current reality of Latin America, the Caribbean and Cuba and the historic friendly relations between the island and Mexico.