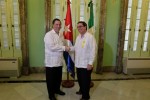 Bruno Rodriguez, Cuban Foreign Minister, will visit Mexico from October 31st to November 1st, after his participation at United Nations General Assembly, which once more has condemned United States blockade on Cuba.
Rodriguez will hold a meeting with his Mexican counterpart, Jose Antonio Meade, and will give a lecture at Foreign Ministry headquarters, said to Prensa Latina a source from Cuban Embassy to Mexico.
Meade visited Havana last month, where he expressed both countrie's intention of boosting new bilateral relations.
In that visit, Rodriguez acknowledged Mexican stance against US blockade on Cuba.
Yesterday, the UN General Assembly condemned US blockade on Cuba and claimed his abolition when 188 countries voted in favor, two against (US and Israel) and three abstained.