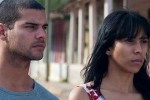 Cuban film had several productions screening Tuesday at the 22nd edition of the Latin American Film and Culture Festival taking place in the city of Biarritz, on the French Riviera.
The film "Melaza" (Molasses), a first feature film by Carlos Lechuga, will be screened out of competition in the "Fenetre Art" section. This movie recently won the "Biznaga de Plata" award at the Film Festival in Malaga, Spain.
The film tells the story of a young Cuban couple in an inland town, trying to preserve their world after the closure of the sugar mill around which the life of the community revolved.
Meanwhile, "Madera" (Wood), a production of the International School of Film and Television (EICTV) in San Antonio de los Baños, Cuba, is competing in the documentary category. "Madera" was the graduation thesis of Argentinean student Daniel Ricardo Kvitko, and tells how a former Cuban Rebel Army combatant manages to avoid the inevitable passage of time in order to reach the age of 120 along with his wife.
The Latin America Film and Culture Festival in Biarritz began on September 30 and will run until October 6.