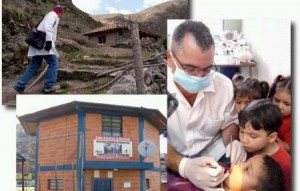 Cuban doctors in Venezuela continue to do their job with every citizen of that country who demands medical attention, said the island's Health Vice-Minister Roberto Gonzalez.
They provide health care to patients regardless of political affiliation, social class, or other considerations, said the health official this Wednesday in public statements to Granma daily.
According to Gonzalez, no Cuban doctor had been reported injured until yesterday, despite the Venezuelan opposition aggressive actions against some health facilities. He referred to the protection movement that exists among residents of that South American country, which evidences the respect earned by Cuban doctors in popular neighbourhoods.
Likewise, the vice-minister pointed out that Cuban health professionals' only goal in Venezuela is to care for those in need. He mentioned Barrio Adentro Mission, which has provided health basic services to the most disadvantaged segments of the population.
On the other hand, he explained that Cuban professors have so far trained over 15 000 Venezuelan doctors, most of whom come from poor families.
(Translated by Escambray)