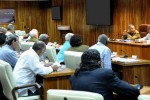 The Cuban government will implement measures in the agricultural sector related to the marketing of products and access to resources, as part of updating the island's socio-economic model, media reported Monday.
The Council of Ministers analyzed on Friday, May 31, in the presence of President Raul Castro, the transformations already implemented in the country to seek greater productivity and economic efficiency.
During the meeting, Vice President of the Council of Ministers Marino Murillo said that the state owns 80 percent of land, while 70.5 percent of the total agricultural area is in the hands of the cooperative and agricultural sector, either as owner or via usufruct.
Commenting on the issue, he said that "we need to rectify distortions that have affected the economic results," and urged "equalization of all producers, liberating productive forces, and promoting efficiency."
The new rules focus, especially in state companies, on items such as citrus, protected crops, registered seeds, pig breeding, species genetics, and buffalo ranching, the official said.
These productions designed to satisfy the planned state demand will be controlled through contracts between the parties.
To solve these problems, the Council of Ministers certified a policy that proposes to move gradually from the administrative allocation of inputs and equipment to economic methods that give direct access to the wholesale and retail market.
Murillo explained that these measures seek to develop a comprehensive program of investment, repairs, and maintenance in industry, transport, storage of raw materials, in order to respond the demands of the economic plan.