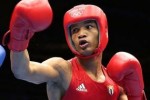 Cuban boxer Roniel Iglesias,  London 2012 Olympic champion , was suspended by the National Federation for a year due to an indiscipline committed.
A report issued by the Cuban Boxing Federation (FCB) states that the athlete will keep his training sections in Pinar del Rio, his home province, unable to compete internationally.
According to Alberto Puig, President of the FCB, Iglesias (69 kg) will have the opportunity to join the national team again after good behavior in that time.
World champion in Milan-2009 was included in the roster for the competition against the Warriors of Mexico, as part of the preparation of Cuban boxers for the upcoming Boxing World Series.
As a result of the sanction, his place will be taken by Luis Oliva, Cuban subtitle in 60 kilos and contestant on the last World Youth Cup.
Cubans and Mexicans will share the same qualifying group from November in the World Series, along with Russia, Kazakhstan, Azerbaijan and Poland, while Ukraine, Italy, Germany, Argentina, United States and Algeria make up the other group.
The Cuban squad for the match against the Mexicans also includes Yosbany Veitía (49), Gerardo Cervantes (52), Lazaro Alvarez (56), Iván Oñate (60), Yasnier Toledo (64), Carlos Banteur (75), Julio Cesar La Cruz (81), Erislandy Savon (91) and Jose Angel Larduet (+91).